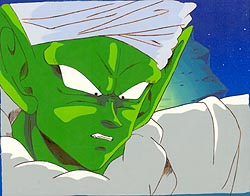 Hi and welcome to my cel gallery! I first started cel collecting in late June/early July of 2003. I am a sucker for Piccolo cels, so the main focus of my gallery is on him. I'm always open to more characters from various series though, especially any good horror or cutesy animal cels.


Please take a look around and enjoy your stay!

ピッコロ セル画



*Please do not steal my cels' images and take them as your own because I spent a lot of time and money on them. You must have my written consent to use them.*


News & Updates



10/26/2010
I'm still alive, just not as active in cel collecting as I was seven years ago. Geez time flies!
6/1/2005
Two new Sailor Moon cels today. If anyone knows what episodes they are from I'd really appreciate it.
2/16/2005
Updated yesterday with a Wishlist cel! Today I rearranged the Dragonball Z cels and genga. Hope it makes viewing easier for everyone!
7/14/2003
The Goddess of Namek's Cel Gallery now open.